Annual Rally & Concours d'Elegance 2023
July, 24th 2023
In June 2023, the RREC Annual Rally and Concours d'Elegance was back at Burghley House, Stamford, the home of the event since 2015. The Rally was much anticipated this year, with the highest number of advance ticket sales for several years, and an impressive attendance from our overseas Sections. More than 150 international members drove their cars considerable distances to be part of the Rally, several of them featuring in the prize giving.
This year the Club was proudly supported by P & A Wood, Vintage Classics and Jonathan Wood.  The Hunt House tent – home once more to the Club Shop this year, making its first reappearance since 2019  – and Members Spares marquee were also present, all operated by our hard working Hunt House team. Alongside was a variety of traders including M H Textiles, A J Glew, Be Seen Screen, Sure Lock, Blue Pig Photography and RH Insurance. To help those members with limited mobility, the Club provided an electric six-seater buggy to tour the rally field this year. It proved a popular new addition, with passengers impressed to learn that the same vehicle had transported our beloved late Queen at last year's Chelsea Flower Show.
2023 saw the 90th anniversary of the Derby Bentley and the 20th birthday of the Continental GT. The two registers co-operated to provide a joint celebration, sharing a common theme. Derby Bentleys and Continental GTs were the first of the marque to be launched by new parents, Rolls-Royce in 1933 and Volkswagen in 2003. Both models were criticized in their day as not being 'proper' Bentleys. Yet, they have since gone on to be much loved by members, especially for their joy of driving. With the emphasis on these two anniversaries, Bentley Motors provided a welcome presence. They brought two vehicles from their collection, a Derby Bentley and a Continental Supersports to be part of the Club's anniversary stand. The striking Bentayga drew much attention over the weekend. 
Following on from members' feedback after last year's Annual, there were new features to the event for 2023.  Especially popular was the Hog Roast, held in the early evening sunshine of the Saturday. Section members and their hard-working officials took the opportunity to enjoy delicious food and accompanying tipple from the bar, catch up with friends and admire the backdrop of the sun setting over Burghley House.  Another innovation was the Black-Tie Dinner, which took place on Friday evening in Burghley House's stunning Orangery.  The evening included a privileged tour of Burghley House.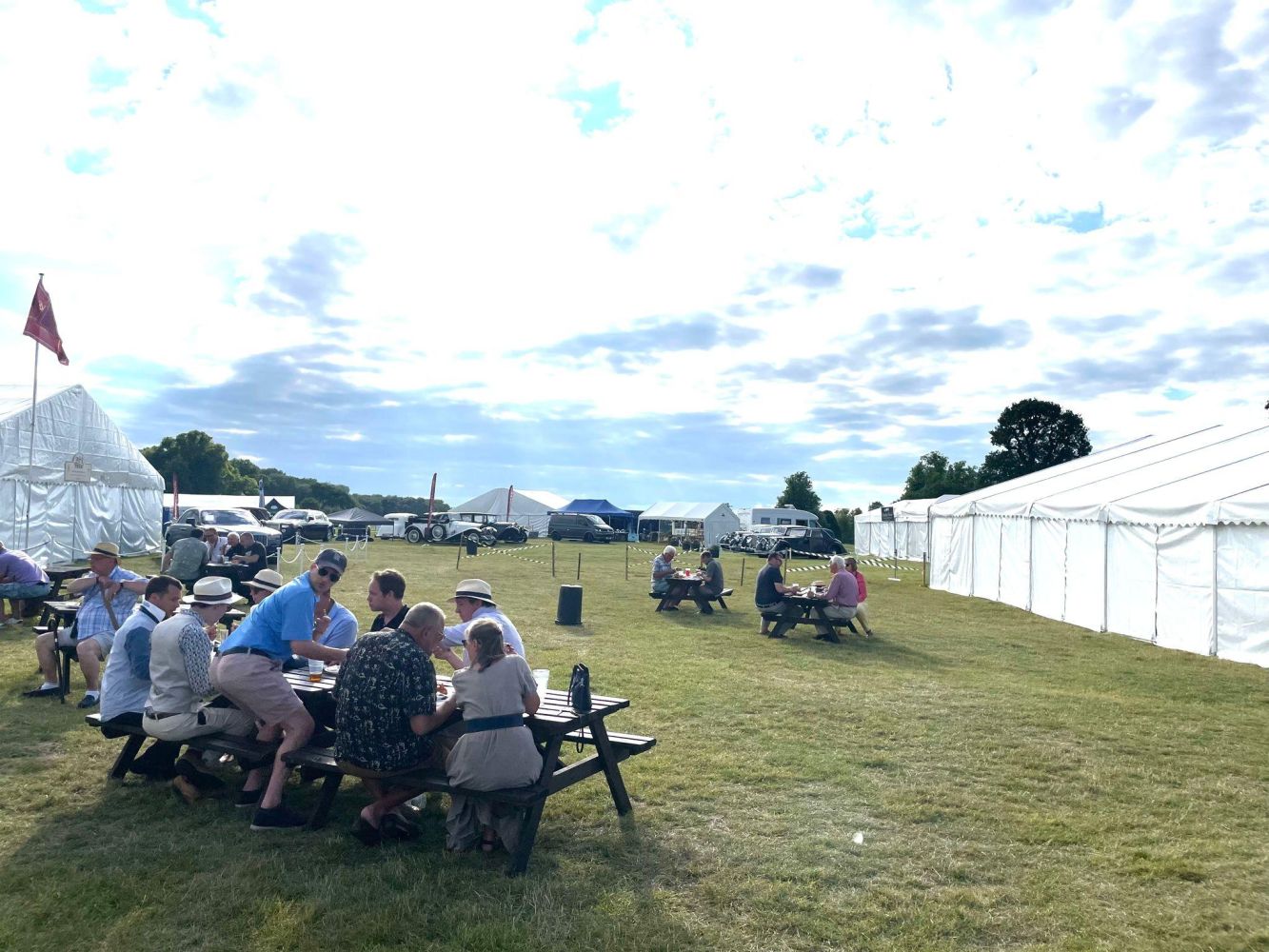 On Sunday, with the sunshine continuing, our expert and committed team of volunteer judges, overseen by Rob Pedlar, set to work for the serious business of Concours D'Elegance. The competition was fierce, with some classes seeing as many as 23 cars competing for trophies. Winners included Mark Watkins as this year's Douglas Wood Trophy winner for his Best Personal Restoration of a Car for his 1934 20/25 and Kevin Wheatcroft receiving Best In Show with his 1963 Bentley S3. (A full list of winners can be found in). Members appreciated being able to park their Club Cars in their class lines again on the Sunday this year, standing proud to attention in from to Burghley House.